In Your Golden Years now offers a state-approved CNA Training Program.
Become a Certified Nurse Assistant (CNA) in three weeks!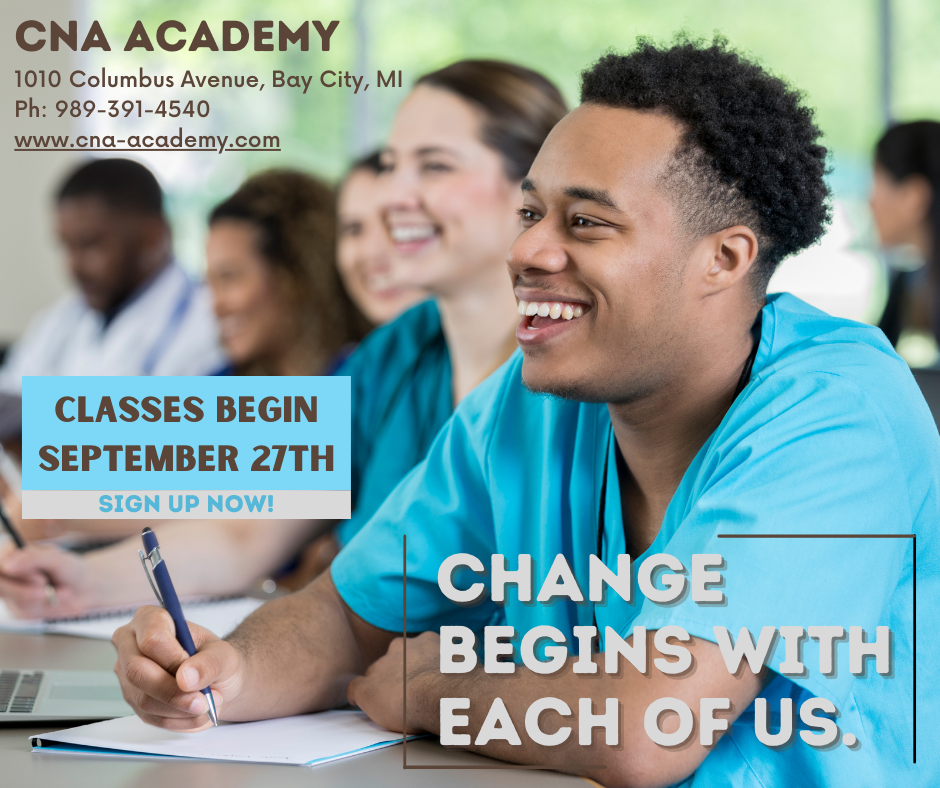 NEXT CLASS SESSIONS for Certified NURSING ASSISTANTS begin SEPTEMBER 27th.
Call 989-391-4540 or visit cna-academy.com for additional information. Register soon as class sizes are limited!
Daytime Program Hours
Class hours: 7 a.m. to 1 p.m.
Clinical hours: 6:30 a.m to 2 p.m.
Class Location
CNA ACADEMY
1010 Columbus Avenue
Bay City, MI 48708
(right next door to In Your Golden Years)
CNA Course Schedule
The CNA Academy Nurse Assistant Training consists of  75-clock hours. You will be given 51 hours of classroom instruction and 24 hours of hands-on instruction in a clinical setting.
Enrollment Criteria
Must complete an application to be accepted into the school.
Applicants must be at least 16 years old.
Applicants must be able to read, write, speak, and fully understand English.
Applicants must submit to a background check going back at least 7 years.
The applicant must not have a felony record.
The applicant will not be accepted into the school if there is any murder, rape, theft, abuse, or illegal drug possession convictions.
The applicant will undergo a TB test (paid for as part of the tuition fee) and must show negative TB results.
Registration
Pick up a registration form:
CNA Academy
1010 Columbus Avenue
Bay City, Michigan 48708
Call to register:
989-391-4540
Tuition
CNA Academy tuition is $650.00.
Tuition includes classroom and clinical instruction, background check, TB testing, drug testing, a textbook, and a workbook with additional study materials.
Prospective students must pay in full by cash, check, money order, credit/debit card, or via the Michigan Works "Work First Program" before the enrollment deadline. All payments must clear prior to the class start date.
Required Supplies
You must wear scrubs (any style, any color) and closed-toe shoes. Athletic-style, comfortable shoes are recommended for the clinical setting. You may purchase your own stethoscope and blood pressure cuff (optional), or you may use ours during class for no additional fee.
State Exam Information
Please note: The State of Michigan exam fee is not included in the class fee.
For additional information regarding taking the State of Michigan exam to become a Michigan Certified Nursing Assistant, please visit: https://www.nursinglicensure.org/cna/michigan-nursing-assistant.html
The Academy will provide information regarding exam testing sites along with exam prep assistance.
Contact Us
Classes will be forming on a regular basis.
Please call for information regarding class start dates: 989-391-4540.
---

C.N.A. stands for Certified Nursing Assistant. A C.N.A. provides hands-on care to patients in hospitals, clients in their homes for home health care agencies, and residents in long-term care settings.
No. Our classes are open to the general public.
If you are an Aide already working for us, we might be able to adjust the your hours to continue to provide client services and continue to receive a paycheck while attending CNA classes.
If you are already an employee and wish to enroll in the CNA training classes, you may pay for classes through payroll deduction.
Yes. CNA Academy is an approved Proprietary Nursing Assistant Training School through the Michigan Department of Licensing and Regulatory Affairs. (approval letter link goes here)
A proprietary school is a school that provide training in a specific trade, occupation or vocation are required to be licensed by the State of Michigan, Proprietary Schools Unit. Students attending these schools do not receive a degree; but may earn a certificate of completion.
You will learn the basics of nursing and how to provide high quality care to your patients. Once training is completed, you will be fully prepared with the skills and knowledge necessary to take the Michigan CNA exam.
Yes, every two years you must send in a license-renewal form to the state. In Michigan,  you must work a minimum of 8 hours in the last 24 months and have the work verified by a R.N. supervisor to  renew your license before it expires. License renewal before certification expiration insure you will not have to pay for any further training.
IYGY does not guarantee employment upon completion of the CNA training program. However, we encourage all eligible applicants to apply for CNA positions at In Your Golden Years.
The Academy also has a close working relationship with many local health providers who are consistently and actively looking for qualified applicants.
Overall, the job market is very good for Certified Nursing Assistants and you are likely to find many opportunities in many different settings.
The Academy staff will keep students apprised of available opportunities.